Are you currently looking for this style of Armbinder?
We have been receiving heaps of requests for this particular style of Armbinder, and where we got it from. Unfortunately, it isn't possible to get it anymore - take my word for it, I'd love to buy heaps more of them!!

The good news is, we have been getting so many requests for information about them, and because we want to use different colours for our bondage shoots, that we have decided to start making them ourselves!

The Armbinder remain faithful to the original look and style of the blue one here, but with improvements to take in to account the wear and tear of the original. Same tight style, same tight fit.

Every Armbinder is custom sized according to measurements we will require you to take. This way they will have a perfect and tight fit every time.

The Armbinders are available in Black, White, Red, and Royal Blue. However we are looking at trying different colours as well.

If you are interested in wanting one of these Armbinder made for you, you can buy them online via this link: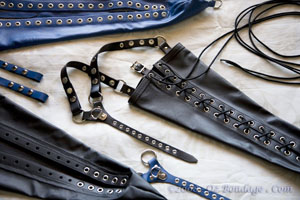 We are taking orders right now and all materials are in stock.

The images above are of the actual Armbinder we manufacture - the Blue Armbinder on this page are the original version. Feel free to compare them closely. Larger images are at www.ozbondage.com
For more information, send an email to: